Ferriday, LA is home to a newly formed school, known as Delta Charter High School. Although unknown to most, this school shows amazing talent on the gridiron. Players come in all shapes and sizes to form a dominant Storm team. Among these athletes lies one of the most impressive players in the State of Louisiana. Heart over height, is a statement that perfectly describes Trey Poole. This premiere athletic specimen, may be short in stature, but plays like he is colossal. He is one the best kept secrets within the state, and his high talent level is something that is sure to impress any onlooker. I had the privilege and pleasure of interviewing this sensational young man, and he did not disappoint me in the slightest amount.
Trey Poole is an extremely talented athlete, despite his size. His athleticism supersedes that of his peers, and it is noticeable in his style of play. Poole has the innate ability to play anywhere on the field. As a running back, he runs with absolute power and reckless abandon. He will run through weaker defenders with ease. Along with his ability to be a threat on the ground, Poole also can lineup as a wide receiver and be downright deadly. He has hands that match those of legendary NFL Wide Receivers, as well as the speed to match his physical ability. Defensively, Trey Poole is a student of the game, and this can be seen in his almost perfect technique. He is able to make plays on balls as defensive back by using a combination of his immaculate speed, great hands, and amazing technique. Poole is a quarterback's worst nightmare when he steps on the field. This young man is a complete package when it comes to the sport of football. https://wwww.hudl.com/profile/5099398/Trey-Poole
Quick Bio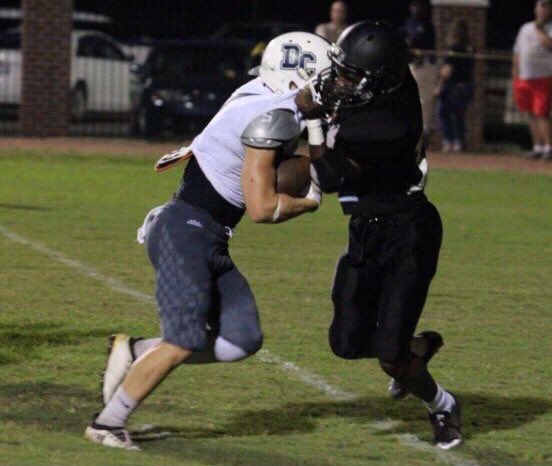 Height: 5'9
Weight: 170lbs
Bench: 260lbs
Squat: 415lbs
Deadlift: 400lbs
40 yard dash: 4.6
Favorite Pre-game song: "Imagine That" by:Kevin Gates
When did you first get introduced into the game of football?
This is an elementary question in nature, but it allows one to grasp anothers upbringing in the sport of football. When asked, Trey Poole immediately explained to me that he began playing the sport when he was 6 years old. This seems to be a trend amongst highly talented football players, but he differed from most. He explained to me that, as he grew and continued to play Pee-Wee football, he was attending a school that did not offer the sport of football. This was disheartening to Poole, as he has an unwavering passion for the game. Along with his unalterable love for the sport, Poole also enjoys the comradery the sport brings, along with the bonds that he forms with his friends through the game. Poole explained to me that a culmination of these factors ultimately led him to transfer schools to participate in a sport he cannot live without. This passion he has for a sport that puts unthinkable demands on the human body is an atonement to Poole's' outstanding character and dedication.
Why not focus on other sports?
When asked this question, Poole quickly dismissed the idea of him being a one sport athlete. As we discussed the question, I noticed that Poole was innocent, and a purest. He explained that he tries to immerse himself in the high school experience. Poole truly wants to enjoy these fleeting years he has in grade school, because he believes that these are moments he will cherish forever. In a sense, it is alluring to hear him speak about things he has passion for. It is refreshing to hear a young man cherish the high school experience for what it is worth. Along with this, he explained that he is a multisport athlete, and that he participates in baseball and basketball as well. In retrospect, football never stops for Trey Poole. He explained that football is his main focus, and that he has dedicated his life to the game. He consistently likes to stay in the routine of football and other sports help him to do that.
What are some players you pattern yourself after?
Most athletes tend to pattern themselves after players with similar skillsets, and in the case of Trey Poole this trend stayed consistent. Although he did fit into the norm, he differentiated himself by explaining his reasoning for enjoying such a great player. When asked this question, he immediately responded with Julian Edelman. If you do not already know, Edelman stands at 5'10, and is currently a member of the New England Patriots. Trey Poole sees Edelman as an outstanding player and a role model for work ethic. He explained to me that Edelman's determination to make into the league helps him tremendously, because he too is a player of short stature. Numerous people have said negative things about Trey's height and ability to perform on the football field, just as they did Edelman. This gives Poole the needed drive to continue to achieve his goal. Along with this, he explained to me that just as Edelman has helped him to form an unwavering dedication to the sport, he wants to be that same role model for younger kids that may doubt their football ability.
What are your strengths and weakness as a player?
When asked this question it caused Trey to somewhat ponder his answer. He explained to me that his biggest asset or strength can be considered his mindset. One thing he loves to ask coaches is "where do they measure his heart at", because height is miniscule when it comes to the sport of football. He uses the negative criticisms to fuel his impeccable playstyle. Along with this, Treys main weakness comes in the form of field vision. He admits that sometimes he may hit the wrong hole and cause himself to have to work twice as hard to gain positive yardage, however he is a hard worker and is consistently working to improve this aspect of his game.
What are your upcoming goals for this season, as well as what would you say to those who doubt you?
Trey Poole does not believe in singular goals. He is the ideal team player, and his season goals reflect this. He explained to me that he wants to set examples for the younger kids in the program, as well as help to build them into young men. He believes that football is small thing, and that the lessons learned are instrumental in forming great character. Poole wants to instill the idea into the minds of younger players that life goes on after football, and that without God you will not be successful. Along with this question, I wanted to know what he would tell his doubters if he had the chance. He explained me to that he would not tell them anything. Trey Poole believes that words do not prove anything, it is actions that have colossal effects. All he wants, is for you to show up at the field, and watch him play because actions speak louder than words.
What are your college aspirations?
As far as college aspirations, Trey Poole has a passion for learning. He explained to me that, although he does not have a major picked out just yet, he is interested in biology and learning more about the world outside of Louisiana. Along with this, Poole explained to me that once he steps on college field, he understands that his work ethic has to remain consistent. He believes, that as a college athlete, he must be better than the next man up. Trey understands that embracing the suck is something that comes with the territory of being a college athlete. The last comment that he made, invoked emotion within me. Although Trey stands at 5'9, he is a firm believer in the statement that: "No one is taller, than the last man standing." This statement is something I have never heard uttered from an athlete's mouth. This young man, is heart over height. This young man firmly believes that not a single man can be taller than him, if he is the last man standing. If this statement does not invoke gargantuan amounts of emotions within you, Trey Poole will be sure to prove you wrong once he steps on the gridiron if you still have any doubts.
Why do you love football?
Every interview that I conduct with an athlete I choose to end it with this question. This question requires athletes to evaluate why they play the game they claim to love so dearly. Trey Poole was able to answer this question with ease. He explained to me that the sport of football builds a man, and enables one to build outstanding character. Along with this, he compared football to life in an immaculate way. He explained to me that football is synonymous with life because it can make or break you as person. Everyone has a choice, we can either get up or stay down when we face adversity. Football has taught Trey this, and he embodies this concept. He understands that nothing will be handed to him, and that he will constantly face scrutiny. The sport of football has fortified his mental attitude to the point where he understands that he has to earn everything by committing to hard work and dedication. Along with this he explained to me that his greatest accomplishment as player does not come in the form of stats. Poole explained, that the feeling he gets knowing that at the start of each game he plays in, he is going to lay his life on the line for his brothers in arms resonates with him the most. This answer left me awe-struck. Normally players, use this question to boast about their greatest individual achievements, but Trey Poole is extremely humble. He would rather see his team succeed as a whole, rather than be in the spotlight.
Trey Poole is not only a talented football player, he is also an impeccable man. He continues to play harder than the next man, even though most discredit his ability because of his height. I will be the first to say, that height is irrelevant. This young man oozes talent, and if college coaches pass on him, they will not only be losing a centerpiece necessary to complete any program, they will also be losing a person filled with amazing character. His work ethic is unmatched, and if you happen to be in Ferriday, LA, make sure to take note of Trey Poole and Delta Charter. He will be sure to amaze you and leave you questioning why he is one of the most overlooked players in the State of Louisiana.
Trey Poole's Twitter: treypoole20